⭐️⭐️⭐️⭐️⭐️
Russell T Davies has never been one to shy away from the grandiose and fantastical, two words that you wouldn't necessarily attribute to the Thrope Affair of the 1970s. But the tale is as farcical as it is prejudiced, and is brought to life by the Davies and Stephen Frears, who saw the comedy in this very unreal true story.
Following the aftermath of a romantic affair between high-brow politician Jeremy Thorpe and young national-insurance-card-lacking stable boy Norman Scott – born Josiffe – A Very English Scandal goes through paid-off policemen, ludicrous hit-men, murdered great Danes, and evidence falling from the sky (or rather an old office) to the absurd trial itself. If this weren't a true story, it would be hard to believe it.
From episode one, this show creates a vivid backdrop of Britain in the 60's and 70's without any heavy exposition or wallowing in nostalgia, a pitfall of many historical dramas. (See my latest TV catch-up for more on this) Instead, this setting allows for a gritty realism where homosexuality is not just taboo but illegal and where class systems and cover-ups are the norms. This realism permeates every episode and lets the comedy elements flourish without fear of taking away from the darker themes of the series.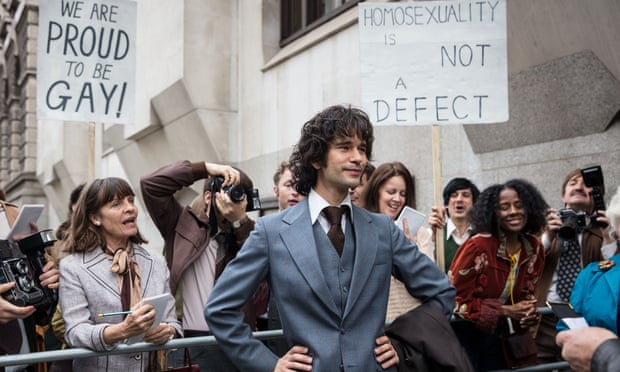 Whishaw, who I was lucky enough to see as Brutus in the production of Julius Caesar earlier this year, won me over with his the self-destructive nature and dependent naivety of Scott: confused and certain in equal measure. Over the course of the series, we see his character grow from the paranoid and pitiful boy to a determined and endearing man, hardened by the reality of a prejudiced society and an abusive leader.
In episode 2, as Scott travels seemingly all around Britain in order to escape the emotional clutches of Thorp, we see the height of his hopelessness, as he focuses his troubles onto a lost national insurance card. It is only later that his fight for justice takes a more deeply rooted turn; standing up for men who are so often cast into the shadows by the rich and powerful exploiting their positions. But never is he painted perfectly: a gleam in his eye as he sees himself on TV and the urgency to go out drinking the night before he has to take the stand tells us this.
But it is Hugh Grant's uncanny performance as Thorpe that dazzled audiences, many of whom are ready to see him win a BAFTA for this role. Without ever straying into imitation, Grant perfects in the mannerisms of a man who's always got his way in life, until now. Smart and swaggering, charming and villainous, this is surely his best performance to date – far from the rom-coms of the past.
It's more than just the hollowed cheeks, slicked back hair, and smart suit that leaves Grant transformed. It's startling to see this often type-cast actor bring to life such a smarmy and predatory figure, handing his number up to Scott in the stables as if he were a very creepy Romeo. However, as with Whishaw's Scott, the show doesn't take a clear-cut stance on Thorpe's character. In the last minutes of episode 3, the mask cracks just a little as Thorpe admits Scott "was the best of them".
Take a step back to look at the supporting cast – Alex Jennings as Peter Bessell, Eve Myles as Gwen Parry-Jones, Monica Dolan as Marion Thorpe, and Jason Watkins as Emlyn Hooson for starters – and you'll see that there are no dodgy castings or weak links in this series.
The women especially shine when given their moments on screen, which are unsurprisingly infrequent given the male-dominated society: the way Marion moves her focus from "BUNNIES" to "I Miss You" is such a small yet powerful detail, much like how Gwen is so moved by Scott's admission to having loved Thorpe.
Adapting any story, and particularly true stories which have become almost legendary within society can be tricky to do right: how can you deliver a satisfying ending when your audience knows how it plays out? A Very English Scandal does this with its devastating tone. It forces you to ask how far we've really come from such prejudice while creating a bittersweet ending where, although Thorpe wins, everybody loses. The final sequence showing Scott, defeated, passing by a celebratory Thorpe is tinged by the final line, whispered to Thorpe by his prudish mother, Ursula:
"Of course you're ruined. You know that, don't you?" 
The BBC has had a great run of miniseries lately, from Ordeal by Innocence to The Woman in White, and have certainly reached a peak with A Very English Scandal. No doubt they'll be scouring the archives for some equally farcical story, but I'd like to think this scandal is truly one of a kind.
Did you watch A Very English Scandal? Let me know in the comments!
Follow me
             
Photos: BBC, Sophie Mutevelian/BBC/Blueprint Television Ltd