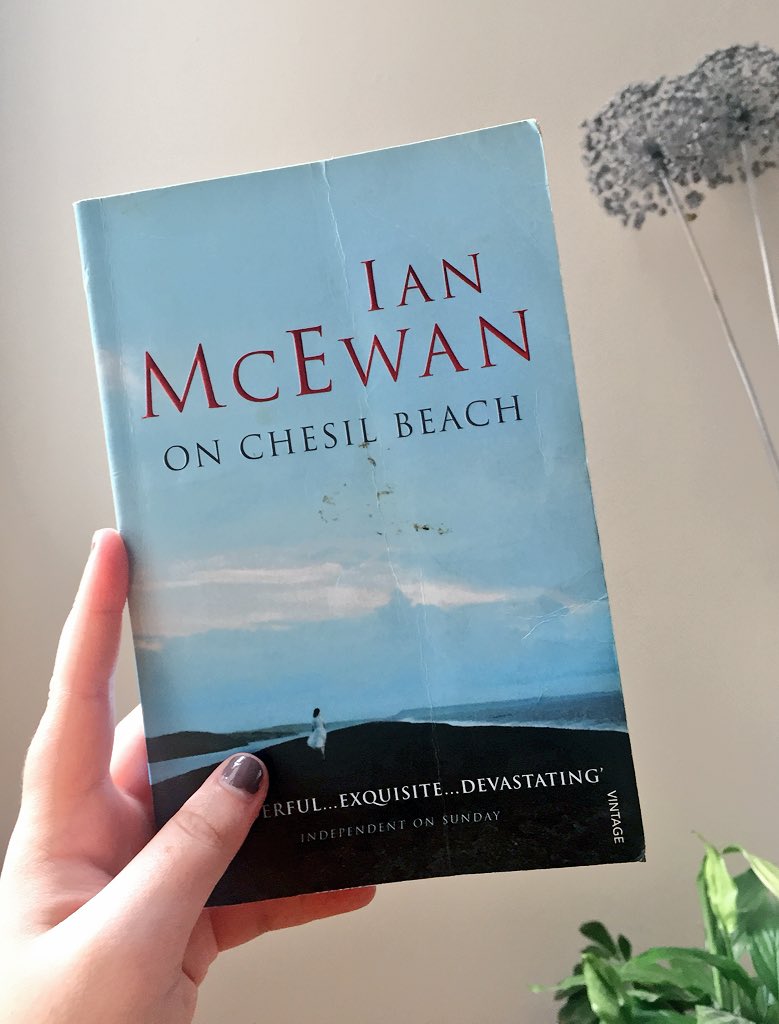 ⭐️⭐️⭐️⭐️
"It is shaming sometimes, how the body will not, or cannot, lie about emotions."
Picking this book up on a whim, having heard rather mixed reviews of the recently released film adaptation, I had very few expectations knowing only that this film tackled a couple's honeymoon and the newly wed Florence's fear surrounding "the inevitable act" to come. I read the whole thing in one day, which is a testament to how much I enjoyed the tale, despite its heartbreaking and uncomfortable nature. 
What's it all about?

It is July 1962. Florence is a talented musician who dreams of a career on the concert stage and of the perfect life she will create with Edward, an earnest young history student at University College of London, who unexpectedly wooed and won her heart. Newly married that morning, both virgins, Edward and Florence arrive at a hotel on the Dorset coast.
At dinner in their rooms, they struggle to suppress their worries about the wedding night to come. Edward, eager for rapture, frets over Florence's response to his advances and nurses a private fear of failure, while Florence's anxieties run deeper: she is overcome by sheer disgust at the idea of physical contact but dreads disappointing her husband when they finally lie down together in the honeymoon suite. 
What initially struck me about On Chesil Beach was its confidently slow-paced narration; other than the occasional flashback the story takes place over the course of around 2 or 3 hours which allows for the focus to be on the characters and their psyches. Playing out almost in real time, McEwan's omniscient voice speaks to you as if he were a Brother Grimm, whispering a dark fairytale into your ear where there is no other possible ending.
Most of the novel is told from inside the characters, Florence and Edward, heads. It not so much as jumps between their two internal struggles than glides effortlessly; showing their misunderstandings and fears in a frustratingly farcical way – although without any of the humour. With McEwan's all-knowing voice commenting on these exchanges, telling us how close the two come to the truth but miss the mark each time, you wish you could reach in and help the two understand.
Fellow book blogger (well booktuber) Maxwell, Well Done Books, wrote in his review of the book: "McEwan's economy of language is remarkable". And I couldn't agree more. In under 200 pages, McEwan delivers two well-developed characters and a heartrending story, all of which is set against a vivid backdrop of 1960's England, a time of strict social conventions and stigma surrounding sexual liberation. I especially loved the sparse use of dialogue; I could probably count the lines of speech on my hands. In doing so, every line has so much more emotional significance, which you might expect in such a situation.
What's more is that there are so many implied readings that you can take away from the novel; from sexual abuse carried out by Florence's father explaining her fear and disgust at the "act", to her asexuality, something that hadn't and couldn't be named at the time. In this story nobody is to be blamed, nobody is the bad guy, the two were merely trapped by their society, their time – which is incredibly refreshing to read.
Whether On Chesil Beach looks at the extent to which sex and sexual education was, and to some extent still is, viewed as a taboo subject or whether McEwan brings to life an asexual character and the difference between romantic and sexual attraction On Chesil Beach is a poignant and incredibly awkward tale about being young, naive, and what it takes to make, or break, a relationship.
---
I hope to do a  full On Chesil Beach film review at some point in the future – I'm intrigued to see how the two differ, especially seeing as McEwan wrote the screenplay himself, so keep an eye out for that!
Have you read the book or seen the film? What did you think of it?
Let me know in the comments!